SCCU Gives Back
Nick Gerrish Scholarship awarded
Soo Co-op Credit Union recently awarded four scholarships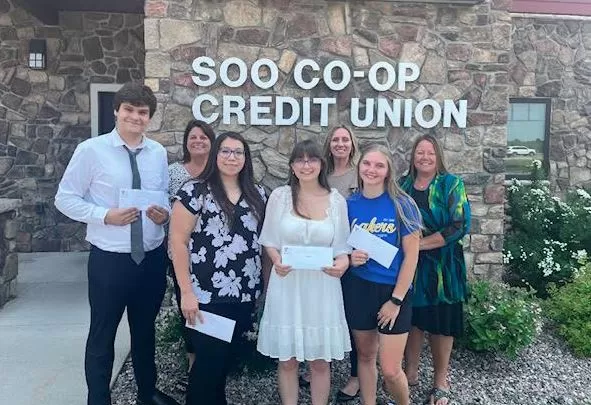 to help student member-owners meet higher education goals through the Nick Gerrish Scholarship Program. The three recipients of the $2,500 scholarships are Clay Wilton, Abagail Sheppard, and Ahna Henderson. The Bay Mills Community College Scholarship was awarded to Emily Sabisch in the amount of $1,500.
Over $253,000 has been awarded to CU members since 1986 through the NGS program.
Applications for the Nick Gerrish Scholarship for the 2024/2025 school year will be available in January 2024.
---
Giving back - COMMUNITY-WIDE cleanup
This Juneteenth, Soo Co-op Credit Union led volunteers across Chippewa County in our first annual community impact clean up day.
Volunteer employees and community members joined in clean-up efforts in the downtown areas of every Soo Co-op branch location.
The cleaning was divided into several phases in each area, garbage pickup, sidewalk sweeping, community gardens and flowerbeds, gravestones, and painting dugouts at the Sault ballfields.

---
SCCU and community science
SCCU participated in the Michigan Tech Mind Trekkers event at Lake Superior State University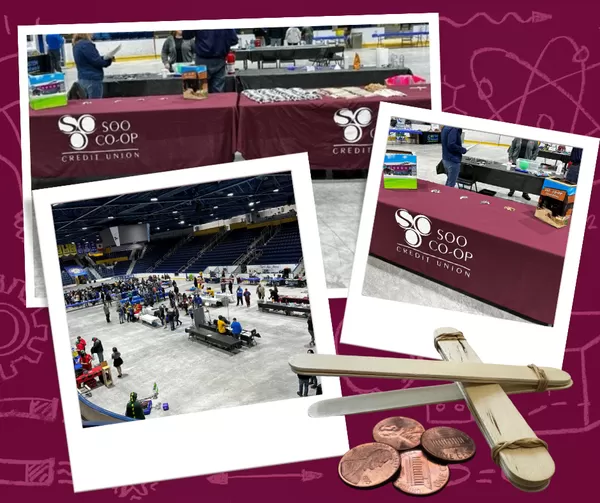 this past April. Sponsoring a coin catapult booth where students used math to determine the supplies needed, engineering skills to build, and science to test how far the catapults would launch the coins. Ending the experiment with a discussion on Newton's 3 Laws of Motion, an object at rest stays at rest until a force is applied, & an object will remain in motion until something creates an imbalance in the motion. Every action causes a reaction!
Mind Trekkers is a nationally-acclaimed traveling STEM roadshow bringing high-energy, hands-on STEM festivals to communities nationwide. Guided by Michigan Tech students, participants will discover firsthand the awe and power of science through experimentation. Mind Trekkers serves to bring communities together to support an educational ecosystem and a strong future workforce in STEM.
---
Money smart Week at Bayliss Library
Penny Penguin and SCCU employees shared stories, information, and giveaways for money smart week at Bayliss Library in April. Employees read money-themed stories to the community, such as Owl + Otter and the Big Yard Sale, and SAVE IT! Families also received a copy of the book to keep after.
This year, Money Smart Week was observed from April 15 to 21. The week is celebrated every year in April to empower people with the knowledge and skills needed to make well-informed personal finance choices.

If you missed us this year, make sure to join us next year!
---
CHRISTMAS IN JULY
In July, we are spreading a little mid-year cheer by celebrating Christmas in July by "paying it forward" through random acts of kindness!
See What We're Up To Here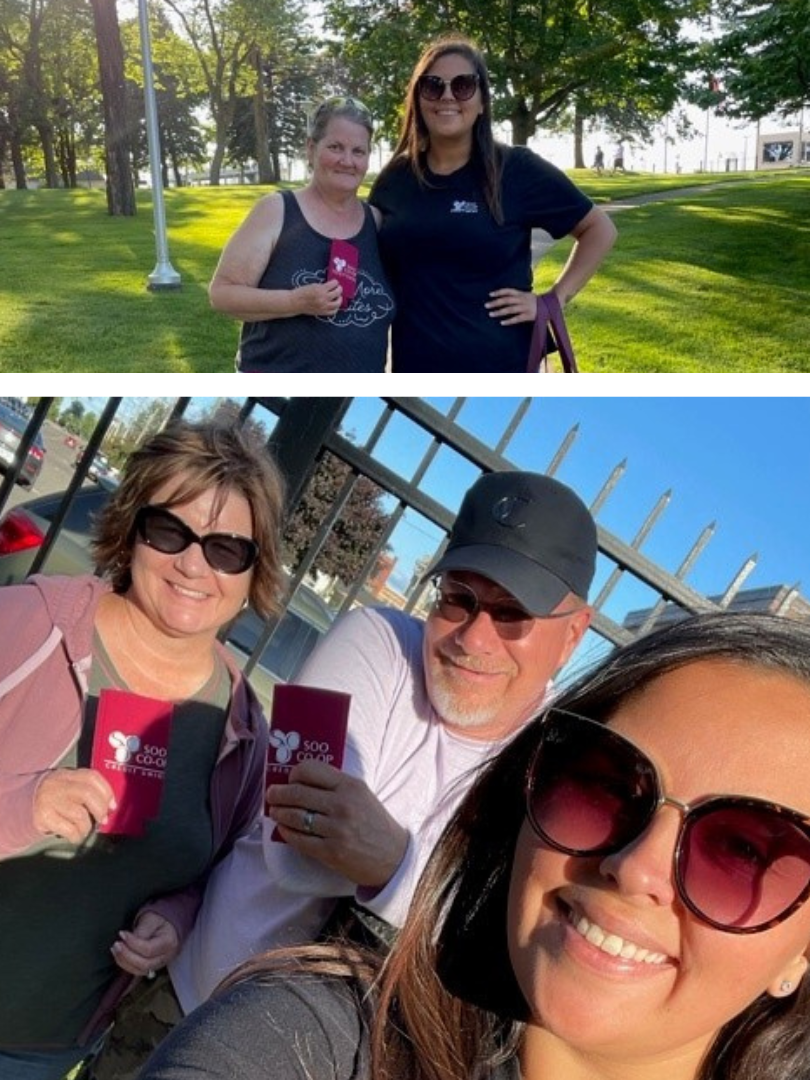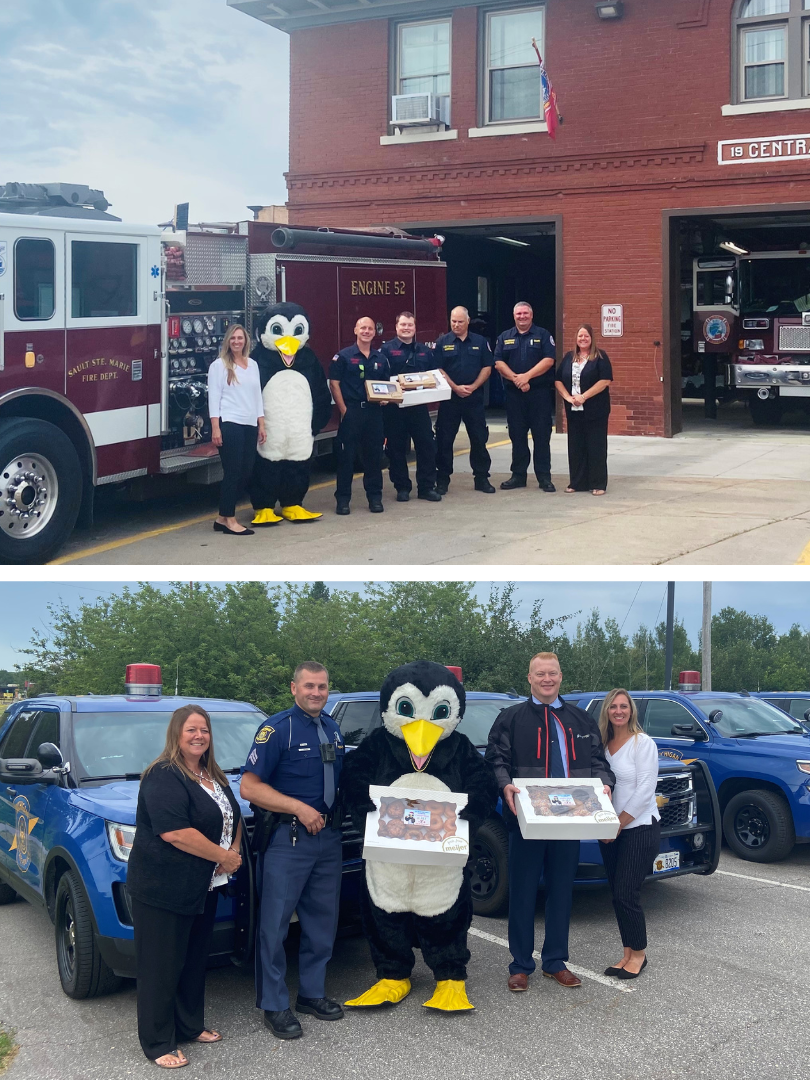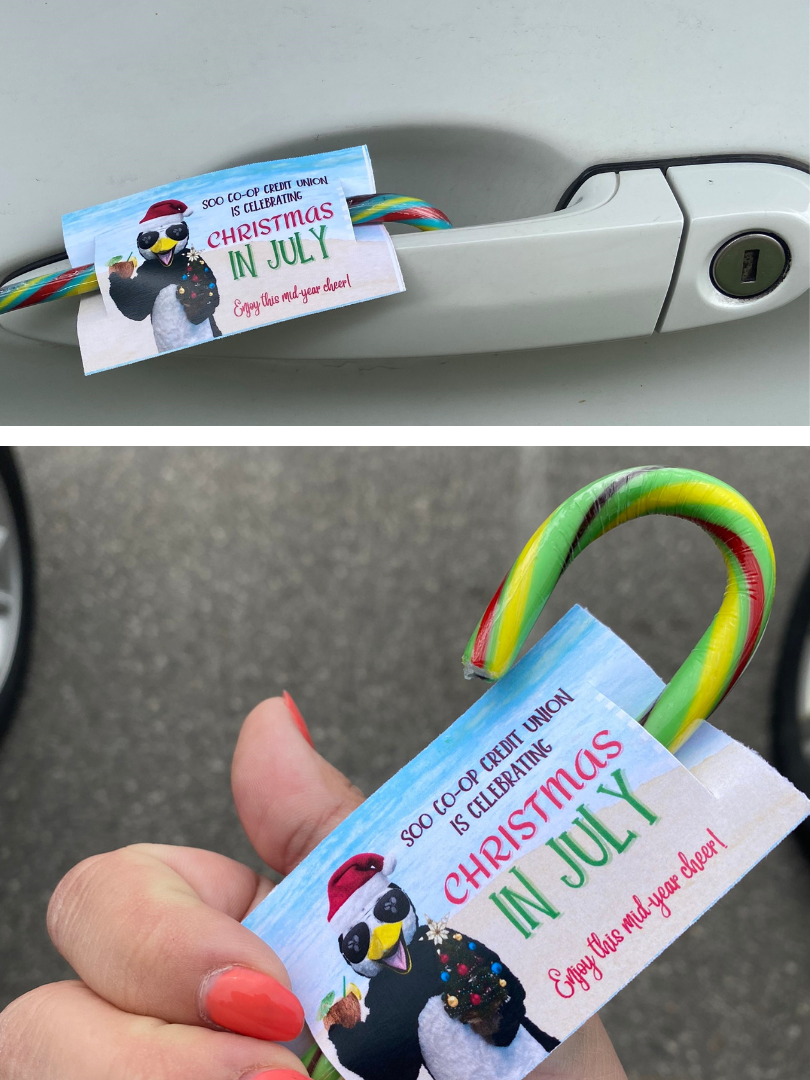 ---
SCCU donates to the Soo Locks CHILDREN'S museum
Soo Co-op Credit Union's philosophy has always been "people helping people." It is essential to consider initiatives that educate our local youth. As part of the community outreach and giving efforts, Soo Co-op Credit Union is investing in the young families of Sault Ste. Marie by committing $25,000 to the Soo Lock's Children's Museum.
The museum was created in 2016 with the purpose of educating kids about the history and science behind the Soo Locks. The finished museum will provide children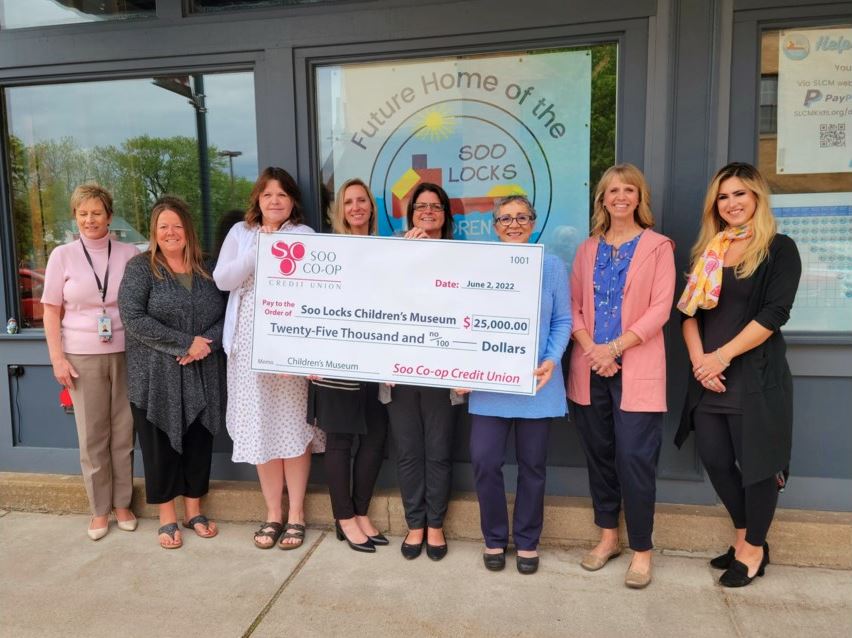 with an environment where they can learn and grow as they express themselves, play, imagine, create and learn. The museum will showcase many hands-on and interactive exhibits.
"We are excited to support the Soo Locks Children's Museum; one of our core values is giving back to our local communities." Said Lynda Ellis, CEO of Soo Co-op Credit Union. "It gives us great pleasure to be able to help our youth grow and learn about the wonderful resources we have right here in our own backyard."
This donation brings the museum closer to its $1.5 million goal that it will have to reach before they open in late 2023.
To donate to the Soo Locks Children's Museum, visit slcmkids.org, www.facebook.com/SLCMKids/ to donate online, or mail checks to Soo Locks Children's Museum, P.O. Box 841, Sault Ste. Marie, MI 49783. Every donation, no matter the size, counts!
---
SCCU Dresses down for local causes
All of us at Soo Co-op Credit Union care very much about our members and the communities in which we live. On Fridays, our employees wear blue jeans in return for a small contribution. These dress-downs are designated for local organizations or members in need. Our most recent dress-down was designated to the Forgotten Eagles.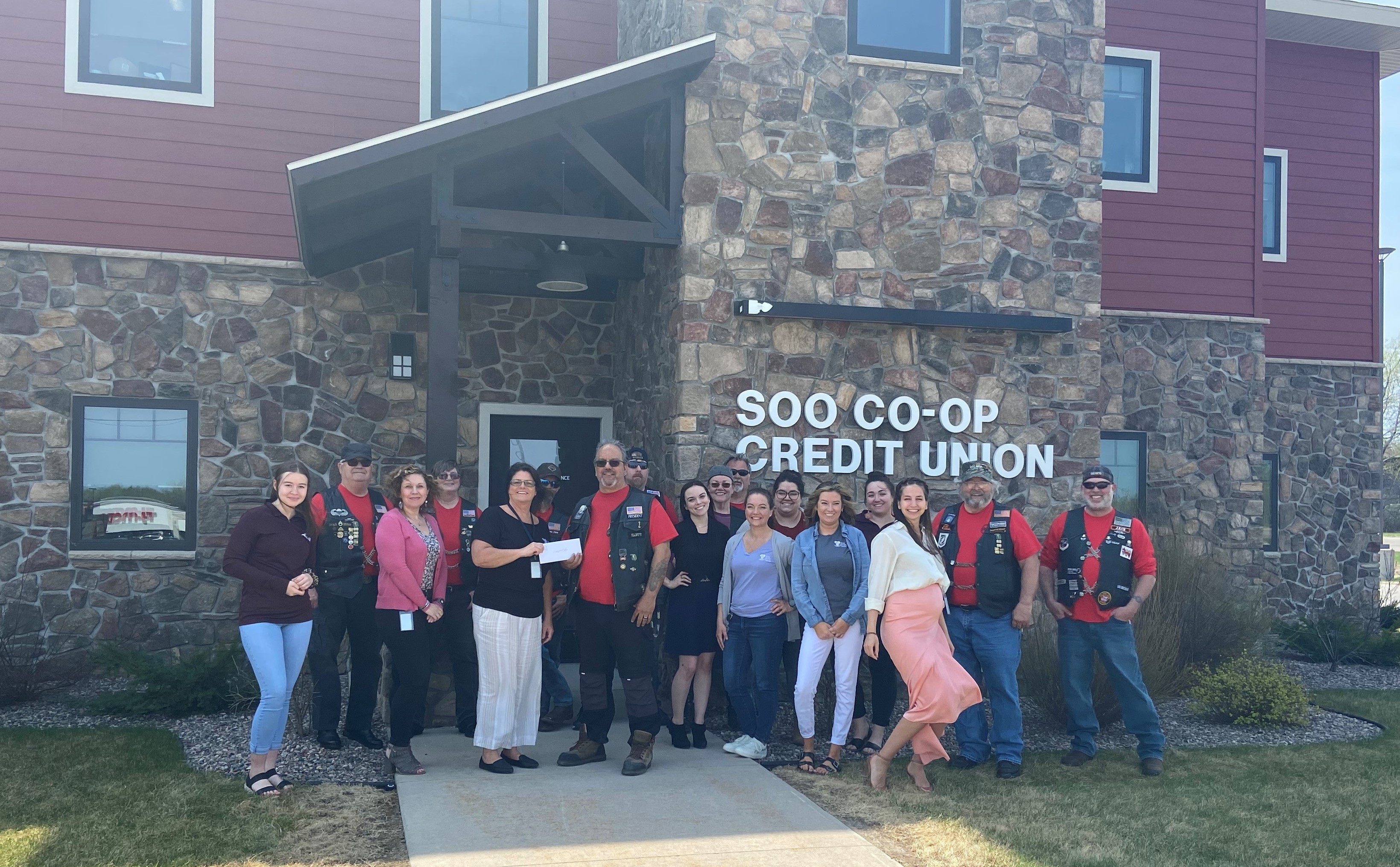 Forgotten Eagles, Inc. is a non-profit organization of veterans that has come together in a common desire to ensure our nation does not set aside the needs of veterans and their families.
Their goal is to heighten awareness and publicize the POW/MIA issue, to advocate for the fullest possible accounting of all of America's POW/MIA's, to promote the physical and cultural improvement of America's veterans and their families, to assist the disabled and needy veterans, and to participate in community projects that benefit those veterans.
---
Highway Cleanup
SCCU Employees volunteer their time to help clean up and beautify their community! Volunteers cover a two-mile stretch of both sides of the road in downtown Sault Ste Marie through the Adopt-A-Highway program. Adopt-A-Highway is a Michigan Department of Transportation (MDOT) program designed to help keep the state's highway roadsides clean and attractive. Our team volunteers in the spring, summer, and fall to help keep our roadsides litter-free. We love being a part of keeping our community clean!
---
Its Reality!
For most adults, the reality of managing expenses can be a challenge. For high school students, this "reality" is not far away, but many have yet to experience what it will be like. Soo Co-op Credit Union works to help high school students see what they will face in the future by sponsoring a Financial Reality Fair. Students in the EUP are able to glimpse into their future by attending a Financial Reality Fair at Sault High School. Students from Sault Area High School & Career Center all participated in this event. This is the eleventh year that Soo Co-op Credit Union has hosted the Financial Reality Fair for students. Since 2011, over 2,400 students from the EUP have gone through this hands-on simulation that will prepare them for life on their own.

« Return to "CU in the Community"